Train with Us/ Public Workshops
Workshops we offer:
Join Goat Howl theatre for a 3 part workshop focusing on transposing poetry into physicality using Lecoq pedagogies and techniques.
"When one advances in the work of transposition, one falls back into life, one falls back into the essentiality of life." – Mnouchkine
Transposition is the art of looking to the world outside and translating its poetry through the body. The aim of the workshop is to hone the performer's ability to devise using their body and imagination as the vehicle for discovery. This workshop explores transposition as a tool for creating pieces of performance from the seeds of movement.
The training in Lecoq's tradition is aimed at helping students learn how to push their bodies, voices, and imaginations to become skilled at presenting impressions of reality broader than a realist representation.
Transposition comes in handy when a performer or deviser wants to use performance to evoke the grandness and wildness of a roaring ocean on stage or to translate the words of their favourite poet into a piece of performance. In this workshop students will experiment with a number of transposition exercises and explorations, which they can later utilize to craft and shape pieces of performance on their own.

The workshop will be lead by Oliver Jane, Co-Artistic Director of Goat Howl Theatre
The workshop price is $150 for all three sessions.*
We are not currently running this workshop, unless there is demand. Please send an email to info@goathowl.com if you are interested or would like to hear about future workshops.
*Please note there is a subsidy available for a maximum of 3 students who cannot afford the full cost of the workshop.
Our ensemble holds ongoing pay what you will Grotowski and Lecoq based training sessions that are open to the public in the Toronto area!
Currently, we do not have any sessions scheduled for this summer. Please send an email to info@goathowl.com if you want to find out when we start up the next session.
These sessions will be run by members of our ensemble, with leadership from Maria Wodzinska and Oliver Jane. We are offering affordable training to interested artists and creating a space where artists/devisors can meet new devising collaborators.
We encourage culturally diverse individuals and people of all gender or sexual expressions to join us.
Meet Our Workshop Teachers!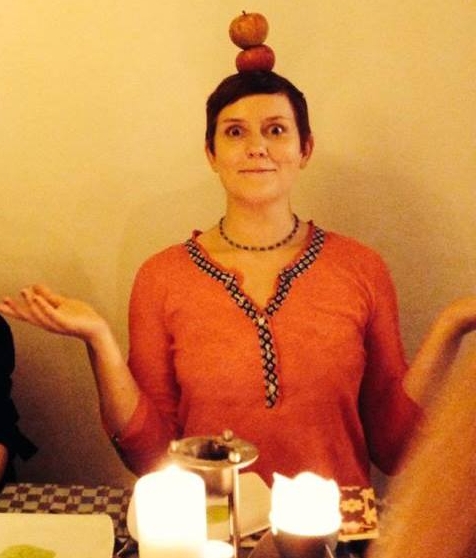 Maria's training began at Humber College working with physical theatre practices from the Barba, Grotowski and Lecoq tradition. Later inspired by mask and movement workshops in London at LAMDA with Mark Bell, she continued physical theatre studies and graduated from L'ecole Jacques Lecoq in 2015. Concurrently she studied under Pascale Lecoq in the Laboratory of Movement (LEM). LEM focusses on the language of movement of scenic objects, masks, and object manipulation. She has worked with Raymond Bobgan of the Cleveland Public Theatre on physical theatre training from the Grotowski tradition. Bobgan's instruction is based on his work with Grotowski at University of California–Irvine. Maria also worked with Nabil Al-Raee and Micaela Miranda of The Freedom Theatre in Jenin, combining Lecoq and Grotowski physical theatre training as a tool for cultural resistance. She is currently completing her MA at York University in Theatre and Performance and is curious about the intersections of research, physical theatre pedagogies, and performance. With her collaborator Oliver Jane, she runs an on-going Lecoq/Grotowski laboratory GROTOLOCO. Maria is inspired by explorations and discoveries that can only be experience in studio, in the body and in the moment."
Oliver holds an MFA in Devised Performance from the Pig Iron School for Advanced Performance Training/The University of the Arts, and has an enormous amount of experience as a Director of devised work. She is a trained physical theatre performer, director, and physical theatre teacher in the Lecoq tradition. She trained with and learned from master teachers at the Pig Iron School, including Quinn Bauriedel, Emmanuelle Delpech, and Sarah Sanford. Previous teaching experiences include assistant teaching for the Pig Iron Summer Session (2016), a co-teaching position in a semester-long course for UArts undergraduates (2016), and a teaching position for Pig Iron's Winter Devising Workshop (January 2017). She has produced and directed a number of shows since May 2013, and has been an assistant director on a number of professional level devised theatre productions, including Pig Iron's PayUp!, I Promised Myself to Live Faster, and Swamp Is On. Since moving to Toronto she founded Goat Howl Theatre with her collaborator Maria Wodzinska. Through Goat Howl she has created a number of original works including Configurations of a Divine Bitch (premiered in Cleveland April 2018) and Dinner with Madness (commissioned by Workman Arts premiering in October 2018).
Oliver can teach workshops in Devised Theatre Tools, Ensemble Building, Acting 101, Mask Work, Neutral Mask, Clown, Lecoq Technique, and Improvisation. She pushes students to be big and bold on stage and in the rehearsal room. Each workshop is treated like a lab where students engage in rigorous experimentation and learn effective collaboration strategies.
Nora is a graduate of Humber College's Physical Theatre Program and Ecole Philippe Gaulier. Having trained in the theatrical styles of Jerzy Grotowski, Eugenio Barba, and Philippe Gaulier Nora works primarily as a theatre creator and has toured her original work throughout Canada, the United States, and England. As a teacher Nora works with a focus on levity and play while encouraging students to find their own unique beauty as performers.